PRESCRIBED MINIMUM BENEFITS
Prescribed minimum benefits (PMBs) are a set of benefits meant to ensure that all medical scheme members have access to certain minimum health services, regardless of their benefit option. The aim is to provide members with continuous care to improve their health and well-being and make healthcare more affordable.
PMBs are a feature of the Medical Schemes Act, in terms of which medical schemes have to cover the costs related to the diagnosis, treatment and care of:
any emergency medical condition that requires emergency treatment
a limited set of 270 medical conditions as defined in the Diagnosis and Treatment Pairs (DTPs)
26 chronic conditions as defined in the Chronic Disease List (CDL).
CHRONIC DISEASE LIST (CDL)
Addison's disease
Asthma
Bipolar mood disorder
Bronchiectasis
Cardiac failure
Cardiomyopathy disease
Chronic obstructive pulmonary disorder
Chronic renal disease
Coronary artery disease
Crohn's disease
Diabetes insipidus
Diabetes mellitus type I and II
Dysrhythmias
Epilepsy
Glaucoma
Haemophilia
HIV/AIDS
Hyperlipidaemia
Hypertension
Hypothyroidism
Multiple sclerosis
Parkinson's disease
Rheumatoid arthritis
Schizophrenia
Systemic lupus erythematosus
Ulcerative colitis
CARE PLAN
You and your treating doctor will receive a Care Plan to treat your condition.
Your doctor must submit the relevant ICD-10 and tariff codes when submitting claims.
The Care Plan is sent via email or post and contains details in respect of services that can be claimed from the PMB benefit.

MEDICINE MANAGEMENT
POLMED PHARMACY NETWORK
Polmed has established an open pharmacy network to provide acute, chronic and over-the-counter (OTC) medication.
Payment for acute, chronic and OTC medication will be subject to the medication included in the Polmed formulary. A 20% co-payment will be applied for voluntarily using a non-formulary product.
IMPORTANT!
If you have been diagnosed with a chronic condition, your medication must be authorised before your prescription is handed in at the pharmacy.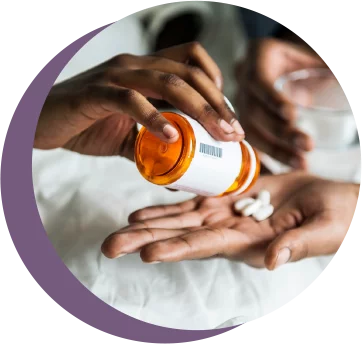 INFORMATION REQUIRED WHEN APPLYING FOR CHRONIC AUTHORISATION

Diagnosis: Valid ICD-10 code.
Date: The date on the prescription should not be older than six months from the date of issue by the service provider.
Doctor's details: Practice name, practice number, telephone number, address and signature.
Patient's details: Full name and surname.
Medication: Name, dosage, quantity, and directions for use.
Duration of treatment: How long the prescription is valid, e.g. repeat for six months.
DID YOU KNOW?
You or your treating doctor or pharmacist can call Polmed to obtain pre-authorisation for your chronic medication.
Chronic medicine department contact details
Treating doctor/pharmacist: Call 0860 104 11 1
Member: Call 0860 765 633
Email: polmedcmm@medscheme.co.za
NOTE
CO-PAYMENTS
Ensure your doctor prescribes items on the medication formulary to avoid a 20% co-payment.
If you obtain your medication from a non-network service provider, you will have a 20% co-payment.
If both the above scenarios are applicable, a maximum co-payment of 20% applies.
GENERIC REFERENCE PRICING
Generic reference pricing is applicable where equivalent generic medication is available.
Co-payments due to reference pricing may be avoided by using generic medication below the reference pricing – your pharmacist can suggest generic medication options.